5 tips voor een groen gazon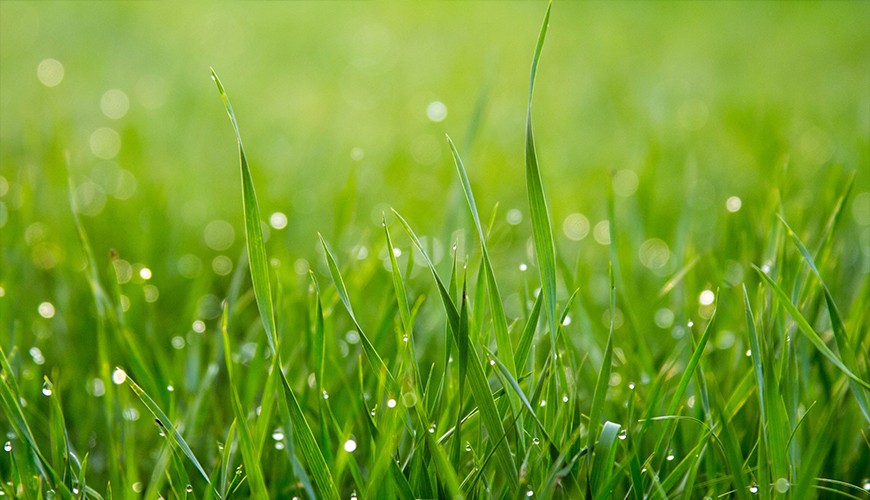 11 Jun
Iedereen wordt blij van een frisgroen, egaal gazon. Maar hoe zorgt u ervoor dat uw gazon deze kleur behoudt? Op deze pagina geven wij u 5 tips.
Tip 1: maai uw gazon regelmatig
Te lange grassprieten blokkeren het zonlicht. Hierdoor kunnen de kleine, nieuwe grassprietjes niet goed groeien. We raden u aan in het voorjaar eenmaal per week te maaien en in de zomer eenmaal per twee weken. Doorgaans is het gras geschikt om te maaien als de sprieten zo'n 10 centimeter lang zijn. Zorg ervoor dat u het gras niet te kort maait, anders kan het uitdrogen. Heeft het geregend? Wacht dan tot het gras droog is. Felle zonnestralen kunnen nat en pas gemaaid gras verbranden.
Tip 2: geef uw gazon water tijdens droge, warme maanden
Als u het gras tijdens droge maanden water geeft met een sproei-installatie of tuinslang, voorkomt u dat het verdort. Dit hoeft echter niet elke dag, één keer per week is genoeg. U kunt gras het beste water geven in de ochtend of avond. Dan raakt het gras niet beschadigd door de zon.
Tip 3: verticuteer uw gazon
Maairesten, mos en onkruid verhinderen de groei van gras. Als u het gazon verticuteert met een verticuteermachine, krijgen de wortels van de grassprieten weer genoeg zuurstof, water en voedingsstoffen binnen.
Tip 4: strooi kalk op uw gazon
Als u minimaal één keer per jaar kalk strooit op uw gazon gaat u mosgroei tegen. Mos groeit sneller bij een lage pH-waarde en kalk voorkomt dat de pH-waarde te laag wordt. U kunt hiervoor BAC kalk gebruiken. We raden u aan kalk te strooien in de winter, bij voorkeur als het sneeuwt. Door kalk gaat de sneeuw smelten. De bodem neemt de sneeuw daardoor sneller op. Zo komt de kalk ook sneller in de bodem terecht.
Tip 5: voed uw gazon
Geef uw gazon de juiste voeding. U kunt bijvoorbeeld Yuccah toepassen. Tijdens droogte houdt dit natuurlijke bevochtigingsmiddel het vocht vast, zodat uw gras minder snel uitdroogt. Andere producten van BAC die uw gazon groen houden zijn:
Organic grow: voldoet aan alle behoeften van uw gras tijdens de groeicyclus.
Root stimulator: stimuleert de groei van positieve micro-organismen, waardoor wortels gemakkelijker voeding kunnen opnemen.
Bio korrels: bevatten een hoge concentratie aan organische meststoffen die de wortelvorming stimuleren.
Persoonlijk advies nodig?
Mocht u nog vragen hebben over uw gazon, dan kunt u altijd bij onze specialisten terecht. Zij helpen u graag. Hier kunt u persoonlijk advies aanvragen.